Hotel




Spirgarten
8048 Zürich

The Best Western Hotel Spirgarten is located in Zurich-Altstetten in the west of the city, a five-minute walk from Altstetten train station. The city centre can be reached in six minutes by train. The modern conference facilities offer ideal conditions for seminars, congresses, celebrations, cocktail parties and weddings for up to 1000 people. Guests can dine in a relaxed atmosphere in the hotel's own restaurant "Brasserie Spirgarten". The hotel offers 49 non-smoking rooms, which are equipped with stylish, modern furniture and parquet flooring. Guests of the Best Western Hotel Spirgarten can use the Altstetten swimming pool free of charge, which is just a three-minute walk away.
49 rooms
8 Seminar rooms
610 m2
2 Walking minutes to public transport
Workshops
Strategy meetings
Staff events
Testimonials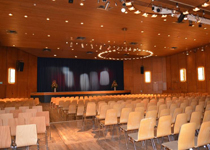 03.05.2016
- Spirgarten, 8048 Zürich
Das Hotelzimmer war sehr schön und sauber. Der Seminarraum ist geräumig und hat all die technische Ausstattung die man erwartet, aber leider sehr warm und stickig. Wir mussten die ganze Zeit die Fenster offen lassen. Das Essen war um einiges besser als das letzte Mal, nur musste man sehr lange auf eine Bedienung warten. Obwohl ich eigentlich alles vorbestellt hatte.
Das Personal ist freundlich und hilfsbereit.
Sibyll Gysin, SBB Cargo AG
05.01.2015
- Spirgarten, 8048 Zürich
Der Seminarleiter war mit allem zufrieden
Denise Engel, Schweizerische Bundesbahnen SBB
08.12.2014
- Spirgarten, 8048 Zürich
Wir waren mit dem Service den wir seitens dem Hotel Spirgarten erhalten haben sehr zufrieden. Der gemietete Saal war gut vorbereitet. Die Verpflegung war in guter Qualität und ausreichender Menge vorhanden.
Hingegen erscheint uns das Preis-/Leistungs-Verhältnis bezüglich Saal/Infrastruktur als verbesserungsbedürftig. Bei einer Saalmiete von hohen Fr. 1600.- für einen halben Tag, sollte einen Beamer, der von der Bildqualität her keine höhere Ansprüche abdeckt, beinhaltet sein und nicht noch Fr. 650.- extra kosten. Dies v.a. auch, wenn der Mieter noch zusätzlich im Spirgarten isst.
Urs Beyeler, Schweizerische Bundesbahnen SBB
19.11.2014
- Spirgarten, 8048 Zürich
Es war alles in Ordnung und auch der Znüni war rechtzeitig bereit. Wir waren zufrieden, obwohl dieser Raum nicht gelüftet werden konnte. Von der Klimaanlage hat man nichts gespürt und ich habe auch keine Regler gefunden. Aber den Heizkörper konnte man manuell rauf- und runterschrauben, was sehr wertvoll ist.
Denise Engel, Schweizerische Bundesbahnen SBB
07.07.2014
- Spirgarten, 8048 Zürich
Der Anlass verlief zu unserer vollsten Zufriedenheit.
Urs Beyeler, Schweizerische Bundesbahnen SBB