Hotel




H4 Solothurn
4500 Solothurn

The H4 Hotel Solothurn has 100 rooms in the categories Comfort, Deluxe and Suite, all equipped with air conditioning, cable TV, Lan connection, flat screen TV, safe, minibar and hairdryer. The exclusive wellness and cosmetic area on the top floor on almost 400m2 invites you to pamper your body and soul. Finnish and steam sauna, aroma bath experience showers, whirlpool, soft pack, Venus bath, solarium, fitness room and two beauty cabins are available and offer space to relax. The kitchen's products are fresh, healthy and first-class. The restaurant offers a modern ambience and a terrace from which you have an enchanting view of the Palais Besenval and the country house. The hotel has a bar on the 7th floor with a fantastic view of the Aare. State-of-the-art conference technology for up to 195 people in three air-conditioned seminar rooms with daylight provide the optimal conditions for successful congresses and workshops.
100 rooms
3 Seminar rooms
100 m2
4 Walking minutes to public transport
Wedding
Testimonials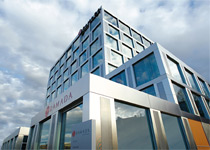 12.04.2023
- H4 Solothurn, 4500 Solothurn
- sehr freundliches Personal
- saubere, grosszügige Zimmer - ideale Lage - Kooperation mit Palais Besenval (Workshop) ist ideal - Palais Besenval als Workshop-Location sehr empfehlenswert (Infrastruktur, Verpflegung, Service)
Roger Mauerhofer, Schweizerische Bundesbahnen SBB
24.04.2013
- H4 Solothurn, 4500 Solothurn
Ich habe vom Veranstaltungsleiter betreffend Hotel Ramada eine sehr gute Rückmeldung erhalten. Die Lokalität ist für Seminare gut geeignet und auch die Betreuung sei sehr gut gewesen.
Astrid Kapphahn-Unternährer, Schweizerische Bundesbahnen SBB