Seminars are our strength.
And so are the appropriate supporting programmes!
Airing your head during or after the seminar - here you will find a selection of suitable social programmes.
For more ideas, call us on 034 533 34 34.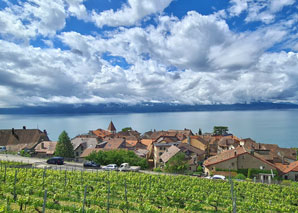 Lavaux wine tour with cold plate
Walk through the vineyards of Lavaux, visit a wine cellar and taste five local wines with a cold plate of cheese and meat.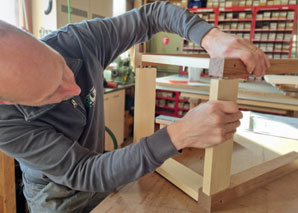 Build your own stool
Assemble your own tabourettli with the help of the carpenter and then take your stool to the country inn for dinner.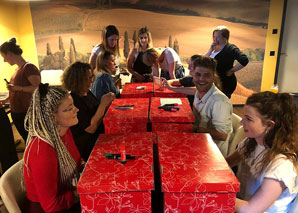 Blind Painting - drawing without inhibitions
Blind Painting - the funny drawing event that lightens up any occasion: You draw your colleagues blind - the result provides many laughs and good mood.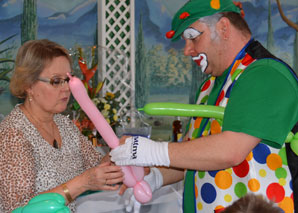 Balloon modeling - the workshop to loosen up
This workshop will be airy and fun: tie colorful balloon figures according to instructions or from your own imagination.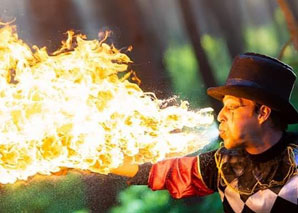 Fire breathing - Erlene to tame the fire
Fire is fascinating! Learn with your team in a safe way to tame this natural force and play with it.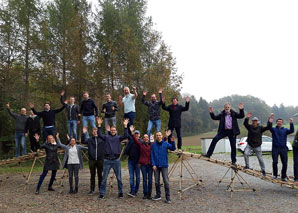 Teambuilding Bridge Building with Bambus
Would you like to set off for new shores with your team? Build a bamboo bridge together. Each team member will experience the strength of their own work.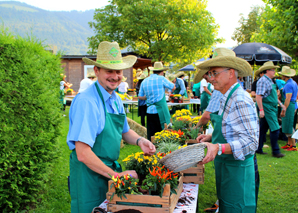 Urban Gardening - natural team event
Become a herb and vegetable gardener in a small space and plant your personal plant bag. Our gardener will take you into the world of urban gardening.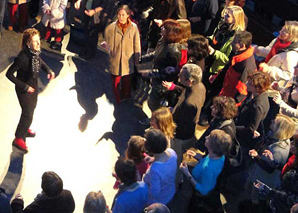 Vocal Percussion - enjoyable handling of our voice
Get your voice swinging with joyful exercises and get in the mood for rhythmic singing together.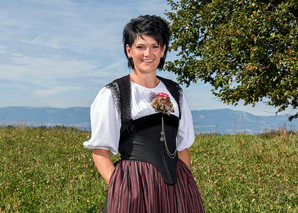 Yodel-workshop
Enrich your event with a yodel course. The workshop with a well-known yodeler loosens up the voice and the mood.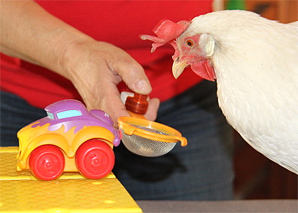 Chicken workshop - become a chicken tamer
Discover how smart the "stupid" chicken really is and learn to communicate without words. The ideal workshop for managers and all those who want to become managers.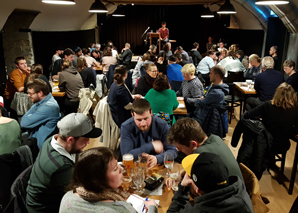 Team quiz with great food
Book the popular team quiz for your next seminar or company dinner. Excitement and entertainment is guaranteed.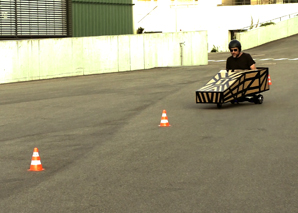 Build a go-cart with electric drive
Build a battery-operated cardboard soapbox with your team and then design your own racing car.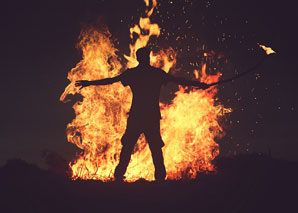 Firewalking
To ensure that you are "on fire" for your projects in the future, you and your team will walk over glowing coals.
Communication workshop without words
Experience a pantomime show and work with the expert in non-verbal language on the foundations of effective communication.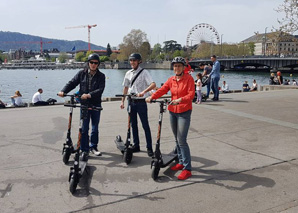 Electric scooter tour
Discover a rural region or a city of your choice on the e-trolley. Experience a comfortably guided tour for young and old.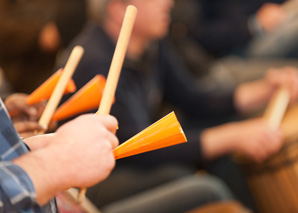 Samba do Brasil – Percussion Workshop
Have you always wanted to play samba? - We enable your employees to have a lasting experience of this fun-loving and team-building musical culture.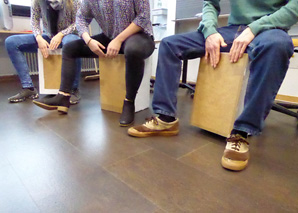 Cajonworkshop with concert
The cardboard seat drum is quickly built, easy to play and has an amazing sound. Making music together strengthens your team cohesion.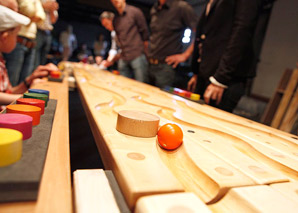 Rollingball Teambuilding
You have never experienced gambling like this before! Bet on the right ball and hope for Fortuna's hand.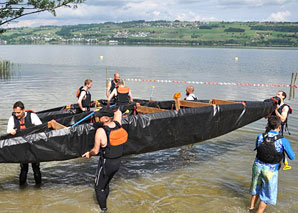 Boat building as a team
Watch out, the rubber ducks are threatening to drown in the lake! To be able to rescue them, you first have to build a floating means of transport as a team.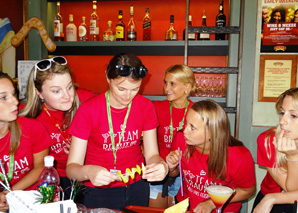 Cocktail workshop in Lucerne or Zug
Let us introduce you to the colourful and fruity world of cocktail mixing and create your own drink as a team.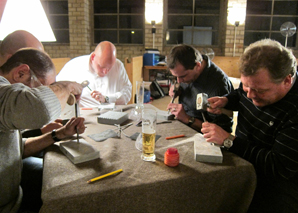 Soap stone fun
Create your own table grill out of soapstone for the subsequent culinary feast.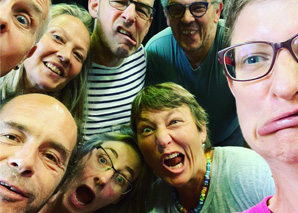 Failing successfully
If you lead an active life, you're bound to fail from time to time. Learn how to become more successful thanks to more composure.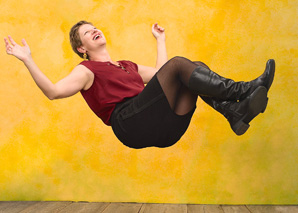 Appear with wow-effect
After this workshop, you will be able to make a confident appearance at any time and stand in front of an audience easily and without stage fright.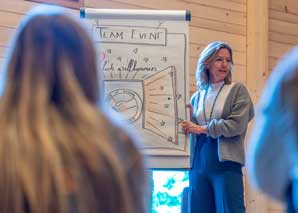 Communication workshop: How do I understand my counterpart better?
In this workshop you will deal with the basics of communication in order to better understand your employees in the future.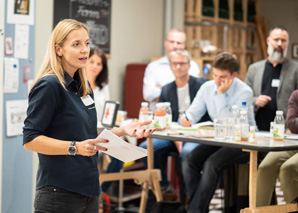 Business Poker Team Event
Concentration, patience, analytical skills and conflict management: At the poker table you will learn important skills for your everyday work.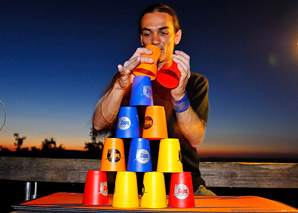 Sport Stacking Teamevent
Book Sport Stacking as a relaxation during or after a meeting and thus promote the participants' reaction and coordination skills.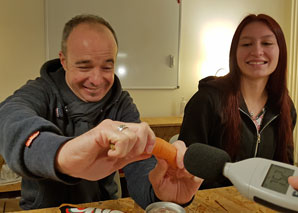 Quiet Being Challenge
Put yourself and your team to the test in fun noise disciplines and be as quiet as possible. It is measured.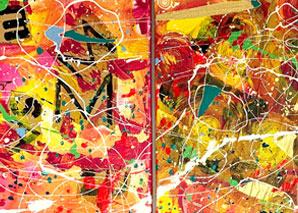 Action Painting as a team event
Whether with the brush, the hands or the feet, whether sprayed, spatulaed or dripped: Bring colour onto the canvas and into your everyday work.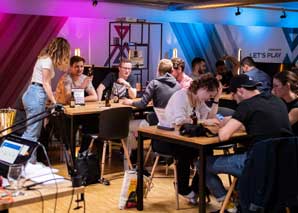 Gaming evening in Bern
Play with your team in a cozy lounge in the middle of Bern, discover exciting games and let us spoil you with culinary delights.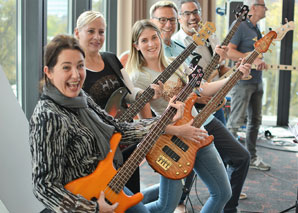 Rock your team
Have you been dreaming of being part of a band for a long time? Fulfill the dream with your team.
Wood carving workshop
Bring the wood carvers from the Bernese Oberland into your company and experience a creative team event.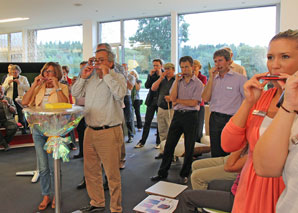 Harmonica workshop
Your party of guests will soon become a blues orchestra with this musical workshop, perfect for social events.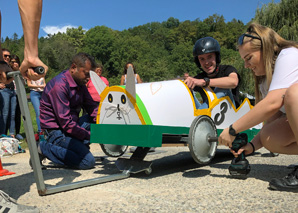 Build and race a go-cart
Build go-carts in teams, decorate them as you please, and then race with them.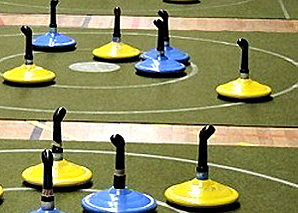 Carpet curling - group event
The ideal team relaxation: carpet curling on your premises, in a seminar hotel, or at another venue of your choice.
Chain reaction
Thanks to creativity and good communication, you and your team will set the chain reaction in motion and reach its goal.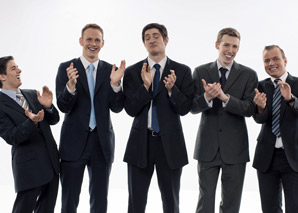 Body- and Smallpercussion
Body percussion in combination with small percussion instruments is the ideal short interlude at your meeting or congress.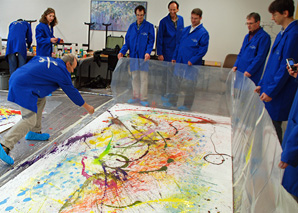 Team action painting
Your team painting will be very invidual and make a lot of fun.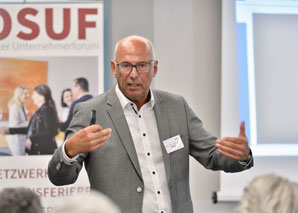 Fish! The motivation and sales seminar
Discover a new way to more success based on the four principles of the Fish! philosophy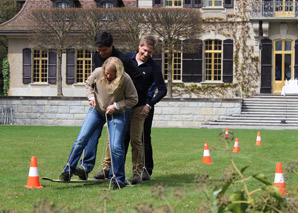 Tricky tasks
Tackle tricky tasks that can only be solved with common skill.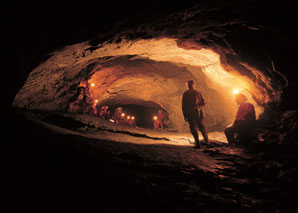 Team building and caving
Combine proven methods of indoor training with well thought-out outdoor training. The cave offers an impressive learning environment.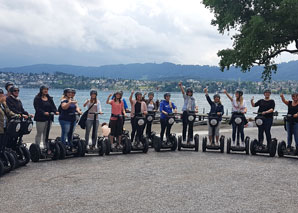 Segway guided tour
Discover a city or region of Switzerland on two wheels and experience a great new driving experience.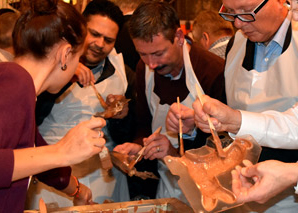 Chocolate workshop
Sweeten your creativity with an insight into the fine world of the chocolatier.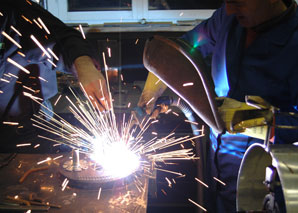 Weld a sculpture
Jean Tinguely is our inspiration in this activity and it's definitely a hot item. Your teams will weld sculptures out of scrap provided.
Drumming and percussion
Drumming will show you exactly how a group can be more than just the sum of its parts.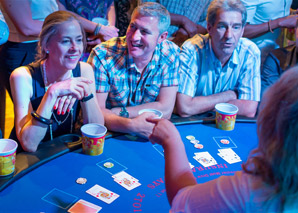 Games of skill and chance
When was the last time you really played? Pitch yourself against each other in teams and try out your luck and your skills.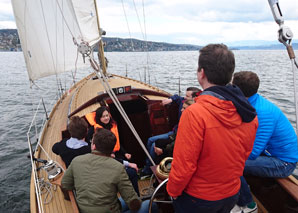 Sailing with a wooden yacht on Lake Zurich
Experience carefree moments on the antique wooden yacht, far away from the hectic everyday life.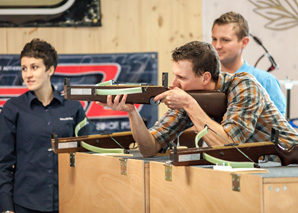 Three ways to shoot: bow, cross bow, blowpipe
Crossbow, bow and blowgun shooting are the disciplines you will learn and practice in this triathlon.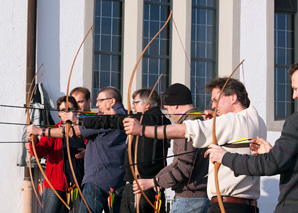 With bow and arrow
Keeping an eye on the goal while having fun - that's archery.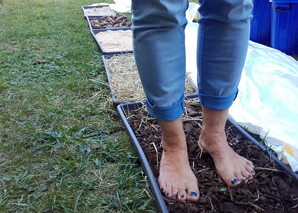 Parcours for the senses
Hear, feel, smell, taste, see - this course tickles, invigorates and sharpens your senses in a playful way.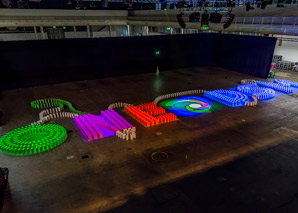 XXL Domino workshop for team building
The XXL domino workshop uses A4 or even A3 sized dominos, making this a mega event.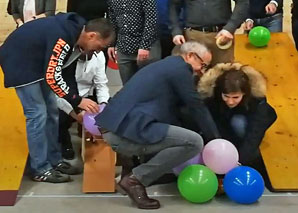 Creative model cars
As a team, build an air-powered vehicle that overtakes all others on the test track. Ideal as a seminar diversion.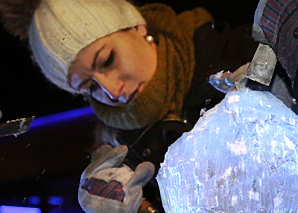 Ice sculpture workshop
Carve great sculptures from large blocks of ice with your team. The sculptures are transient, but the fun is lasting.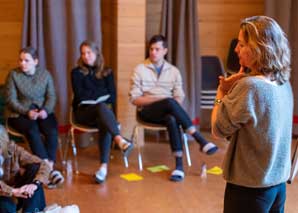 New motivation for your team
Find a new work culture by combining the best of proven processes with new ideas. Become strong together with the support of a coach.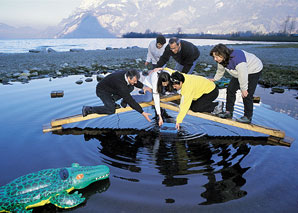 Trust and Team - Teambuilding
Offer your employees the opportunity to get to know each other better, to communicate and to stand up for each other far away from the usual working atmosphere.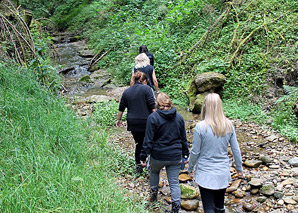 Seminar im Emmental mit Aktivitäten
Conduct your next seminar in the Emmental, combine it with a colour trail or a team hike and let yourself be spoilt with culinary delights away from the daily routine.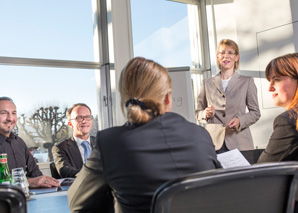 Business Knigge Day Workshop
Social competence is just as important for professional success as specialist knowledge. In this training you will train the current manners.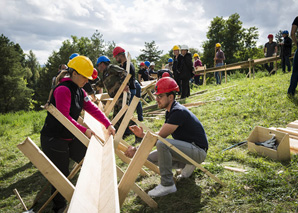 Build an large scale marble run outdoors
Let your imagination run wild and tackle together to build a huge construction in teamwork.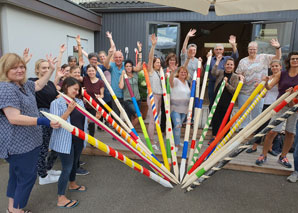 Careful, don't move! Mikado workshop
Each team member creates a man-sized mikado stick made of wood. But only all the sticks together make a whole game.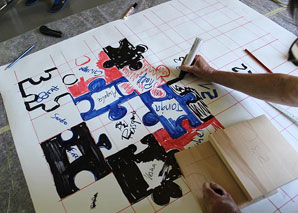 Wooden puzzles: how does it all fit together?
Put together the puzzles you have made yourself from square pieces of wood.

A culinary evening
Take a culinary tour of Basel, Lucerne, Zurich, Berne, Zug or St. Gallen and win the gastronomic competition.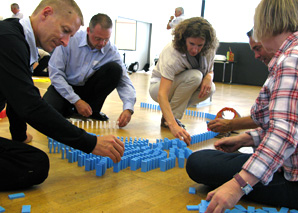 Domino workshop for team building or just for fun
Planning intersections, co-ordinating resources - success one step at a time with a domino workshop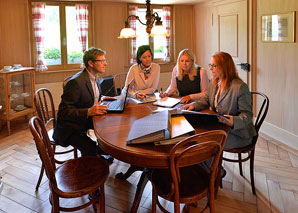 Teammeeting on the farm
The adventure inn is equipped for seminars, workshops and meetings. Far away from hectic and routine - guaranteed down-to-earth and inspiring.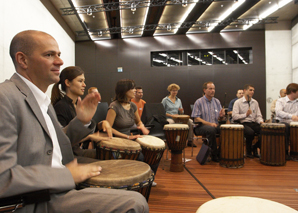 Forwards in rhythm together
In this leadership seminar you train drumming values like team spirit, courage, self-management and creativity.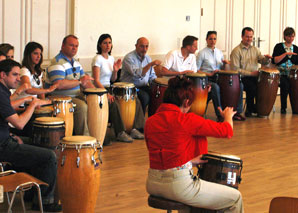 Team drumming
Fill up your energy with drums in a playful way and experience how your team becomes a great band.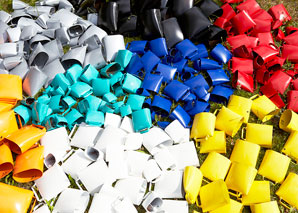 Cow bell orchestra
The Cowbell Orchestra is an original and original Swiss short interlude for your meeting or congress.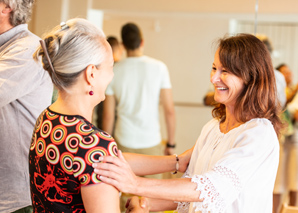 Laughter workshop
After this laughing yoga training, you too will start every day with a laugh.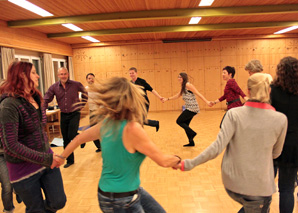 Stress reduction workshop
Are you stressed? Learn a few practical tricks with which you can quickly and effectively influence your well-being in everyday life.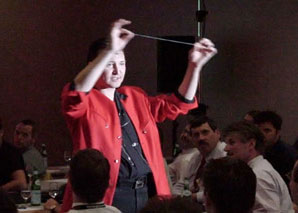 Presentation training
Communicate more fascinatingly and present more effectively - this is what you learn in this seminar from a communication trainer and magician.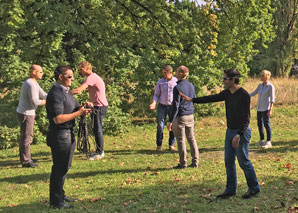 Teamwork in the dark
In completely darkened rooms your team will be given tasks to perform. To lighten things up, there are interaction games - blindfolded.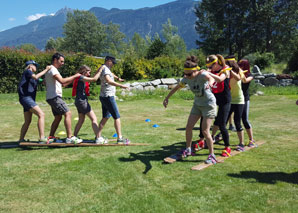 Swiss alpine games
Promote team spirit in a playful way: This Alpine Games guarantees fun and trains communication at the same time.
Testimonials (in german)
08.07.2021 Die Mitarbeiter gingen schnell zur Sache und der Grundaufbau der Seifenkisten war nach einer guten Stunde mehr oder weniger fertig. Und dann begann die Kür: hier noch eine Verzierung, da ein Spoiler, dort ein Auspuff usw. Der Spass und die Kreativität waren spürbar und an den Kisten sichtbar. Nach einem gut halbstündigen vom Höfli-Team wunderbar zusammengestellten und servierten Apéro ging es dann auf die Piste.Fazit: Ein durch und durch gelungener Anlass mit dezenter aber immer präsenter Unterstützung durch die Veranstalter. Herzlichen Dank! Martin Hirt, Gemdat AG über «Build and race a go-cart»
31.10.2022 Der Anlass war toll. Es hat alles reibungslos geklappt und die Durchführung mit farner & farner war perfekt organisiert. Die Auswahl für den Seifenkistenbau war gross und die Instruktionen waren sehr gut. Das anschliessende Rennen mit Zeitmessung und die Strecke waren noch das Tüpfelchen auf dem i. Alles in allem waren wir sehr zufrieden. Besten Dank! Agnes Haslebacher, Frigo-Consulting AG über «Build and race a go-cart»
11.11.2019 Der Teamanlass war eine neue Erfahrung und hat uns allen grossen Spass gemacht. Die Betreuer gingen sehr gut auf die individuellen Bedürfnisse ein und so konnten wir alle unsere eigenen Grenzen testen. Vielen Dank an alle und gerne wieder! Therese Beutler, Berner Tierschutz über «Team building and caving»
03.03.2020 Der Action-Painting Workshop bei unserem Homecomingevent kam sehr gut an. Der Leider war sehr gut vorbereitet, die Räumlichkeiten wurden gut abgeklebt und die Teilnehmer mit Schutzmänteln und OP-Schuhen versorgt. Der Verantwortliche hatte ganz viele verschiedene Pinsel und Instrumente dabei und instruierte die Teilnehmer (ca. 40) sehr gut. Die Beratung und Betreuung vor und während des Action-Painting Workshop war sehr gut. Alle Teilnehmer hatten viel Spass, konnten kreativ wirken und das Ergebnis am Ende war sehr bunt und eindrücklich. Jackson Pollock wäre stolz gewesen. :-) Die Räumlichkeiten wurden nach dem Workshop sauber und aufgeräumt hinterlassen. Vielen Dank für den tollen Action-Painting-Workshop. Wir empfehlen diesen sehr gerne weiter. Gesa Jürgens, Executive MBA HSG über «Team action painting»
21.06.2021 Der Holzschnitzkurs war toll und wir konnten unter fachkundiger Anleitung von Mario unser Logo herstellen. Es hat allen Spass gemacht und der Durchführungsort war super. Cornelia Affolter, TEMET AG über «Wood carving workshop»
08.09.2022 Es war ein super spassiger Event. Alle haben mit Herzblut an Ihren Seifenkisten geschraubt und mit ganz viel Kreativität die Kisten gestaltet. Der absolute Fun, war dann aber natürlich das Rennen. Vielen Dank für die tolle Organisation und Begleitung. Maya Steiger, PROFIX AG über «Build and race a go-cart»
24.06.2019 Sehr geehrte Frau BühlerDas Seifenkisten Event unter der Leitung vom Seifenkistenbaeuer ist bei unseren Helvetia Gästen, die aus der ganzen Welt kamen, sehr gut angekommen. Der Verantwortliche hat das Material fristgerecht vorbereitet, sodass wir rasch loslegen konnten. Die Seifenkisten sind stabil gebaut und haben auch eine gute Steuerung und vernünftige Bremsen. Wir waren 5 Teams à 6 Personen. Hat alles sehr gut funktioniert, der Austausch und die Aufgabenverteilung hat viel Kommunikation ermöglicht und auch das Rennen selbst war sehr interessant und unterhaltsam. Der Veranstaltungsort eignet sich sehr gut für diesen Anlass, weil er auch bei schlechtem Wetter durchgeführt werden kann (zumindest die Montage). Edith Hediger, Helvetia über «Build and race a go-cart»
10.12.2019 Durch die kompetente und einfühlsame Leiterin wurde der Abend für alle Teilnehmenden zu einem fröhlichen Event. Alle sind in Bewegung gekommen und hatten Freude ihre Stimmen in und durch ihren Körper noch einmal ganz anders zum Klingen zu bringen. Der "Spontanchor" , der so entstand, begeisterte alle. Ich würde den Workshop jederzeit wieder buchen.Die Teilnehmende singen noch heute , was sie an dem Abend gelernt haben. Ute van Appeldorn, Pfarrei St Franziskus über «Vocal Percussion - enjoyable handling of our voice»
01.09.2023 Wurde genossen von allen Beteiligten. Es war gut organisiert und hat echt Spass gemacht. Wir können uns vorstellen, dies zu wiederholen. Besten Dank. Michael Wyss, AIG über «Sailing with a wooden yacht on Lake Zurich»
05.05.2019 Das Lach-Yoga Seminar mit Rolf war lehrreich, spannend, abwechslungsreich, aufmunternd, lustig und hoffentlich nachhaltig. Die meisten Lehrpersonen unserer Musikschule habe dieses 3-stündige Seminar gewinnbringend empfunden. Einige wenige waren etwas gehemmt und konnten dieser Weiterbildung dadurch möglicherweise nicht denpersönlich und nötigen Zugang entgegenbringen.Herzlichen Dank an den Kursleiter Rolf. Heinz Binder, Musikschule Lenzburg über «Laughter workshop»