Hotel




Radisson Blu Luzern
6005 Luzern

The Radisson Blu Hotel Lucerne is centrally located on the beautiful Lake Lucerne, offers spacious rooms with lake view, restaurant and bar. The dream location and facilities are ideal for business and leisure travellers. The hotel is located at the main railway station, close to the cosy old town and the culture and congress centre. All 189 rooms and suites are modernly furnished with a fantastic view of Lake Lucerne or the gorgeous mountains. All rooms and seminar rooms are equipped with W-Lan and high-speed internet access. The fitness area features state-of-the-art equipment, saunas, steam bath, relaxation room and a direct view of Mount Pilatus. Start your day in the wine lounge with specially selected wines. Enjoy a Mediterranean dinner in the LUCE restaurant with show kitchen and end your adventure in the stylish LUCE bar. The meeting rooms are just as suitable for small meetings as they are for conferences and festive occasions of all kinds.
189 rooms
13 Seminar rooms
205 m2
6 Walking minutes to public transport
Wedding
Testimonials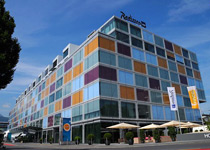 19.03.2018
- Radisson Blu Luzern, 6005 Luzern
Der Anlass mit ca. 50 Personen im Hotel Radisson Blu war nicht zuletzt dank der hervorragenden Organisation ein sehr gelungener Event. Die Technik funktionierte einwandfrei, alles war hervorragend vorbereitet und der Apéro war schlicht Spitze.
Wir können das Hotel für solcherlei Anlässe gerne weiterempfehlen.
Özlem Düzgün, Schweizerische Bundesbahnen SBB
06.11.2017
- Radisson Blu Luzern, 6005 Luzern
Wir haben zwei sehr angenehme Tage im Radisson Blu in Luzern verbracht und können dieses Hotel weiterempfehlen.
Es hat alles wie vereinbart geklappt, die Mitarbeitenden im Radisson Blu haben wir engagiert und sehr freundlich erlebt. Die Räumlichkeiten des Hotels sowie die Zimmer waren sehr ansprechend und sauber. Wir würden das Radisson Blu wieder wählen.
Giulia Casto, Schweizerische Bundesbahnen SBB
17.08.2016
- Radisson Blu Luzern, 6005 Luzern
Es war alles perfekt. Sehr hilfsbereite Mitarbeitende und ein ständig besetzter Helpdesk direkt bei den Sitzungszimmern. Verpflegung (Kaffeepausen und Mittagessen) waren sehr fein.
Roberta Bernet, Schweizerische Bundesbahnen SBB