Hotel




Aquatis
1010 Lausanne

Ideally located in the heights of Lausanne, Aquatis Hôtel is just off the A9 freeway, at the crossroads of the north/south axis. Easily accessible by public transport, it is located at the Vennes metro station, which connects it to the city center and lakeside in just a few minutes. During your stay, public transport is provided free of charge. For your banquets, seminars or weddings, the Aquatis Hôtel boasts a 300-seat auditorium and several modular seminar and meeting rooms totalling over 620m2. You can also privatize The Garden restaurant or the AQUATIS Aquarium-Vivarium for unique and magical moments.
143 rooms
6 Seminar rooms
300 m2
1 Walking minutes to public transport
with wellness
for small budgets
Kick-off meetings
Retreats
Workshops
Strategy meetings
Management away days
Staff events
Testimonials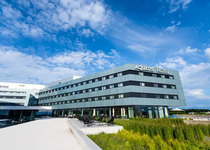 15.02.2016
- Aquatis, 1010 Lausanne
L'établissement, se trouvant à la sortie du Metro M2 « Vennes », est facilement accessible depuis la gare de Lausanne ou le centre ville en transport public. Des places de parc gratuites sont également à disposition pour les clients.
Les salles de séminaire sont confortables et pratiques. Le repas de midi pris au restaurant (compris dans le forfait) était très bon et le service parfait. Le personnel met tout en œuvre pour satisfaire les besoins du client. Seul bémol de la journée ... la gestion de la pause-café pour 150 personnes n'était pas optimale le matin : - Bien que la machine à café pouvait en faire 2 à la fois, cela ne suffit amplement pas pour autant de monde. A ma demande, l'hôtel en a installé une deuxième l'après-midi ce qui a permis un meilleur débit. - Le ravitaillement en viennoiserie se faisait attendre. Peut-être qu'il aurait fallu davantage de personnel pour gérer notre pause-café. En conclusion, globalement, l'Aquatis est une bonne adresse pour y organiser un séminaire !
Carole Junod, Schweizerische Bundesbahnen SBB