Hotel




Kettenbrücke
5000 Aarau

Welcome to the Hotel Kettenbrücke. In March 2016, the 4-star Hotel Kettenbrücke opened on a historic site in the cantonal capital of Aarau with 26 rooms and suites, restaurant, vaulted cellar, bar, lounge & winter garden, banquet hall, seminar rooms and roof terrace. The 24 modernly furnished rooms and two spacious suites form a link between modern elegance and the tradition of the house. The rooms are decorated in warm earth tones and have parquet flooring. Oversized beds as well as the rain showers or large bathtubs in the corner rooms ensure cosy moments. Large TV screens, fast WLAN internet access, telephony in Switzerland and mineral water in the rooms are available free of charge.

"In June 2021, the hotel's own restaurant received a new identity as "Zollhuus". Since then, the restaurant has become THE meeting place for all aficionados of high-quality steaks, with which culinary moments of happiness are guaranteed. Although the focus of the menu is pure meat enjoyment, lovers of vegetarian and vegan food also get their money's worth here."
24 rooms
4 Seminar rooms
120 m2
12 Walking minutes to public transport
in the center
Wedding
Kick-off meetings
Retreats
Workshops
Management away days
Staff events
Testimonials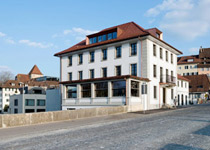 08.05.2018
- Kettenbrücke, 5000 Aarau
Sehr schönes und ruhiges Seminarhotel.
Die Räumlichkeiten sind sehr gut und angenehm. Übernachtung und Verpflegung sehr gut. Kleines Manko sind die Kaffeepausen. Keine Räumlichkeiten für Kaffeepausen. Entweder direkt im Seminarraum oder im 4. Stock im Gang.
Adrian Ammann, Schweizerische Bundesbahnen SBB
20.09.2017
- Kettenbrücke, 5000 Aarau
Wir waren sehr zufrieden und haben gleich 2 weitere Leitungsmitglieder, die ihre Klausur dort buchen werden. Auch wir werden dieses Hotel sehr gerne wieder berücksichtigen. Seminarraum war sehr gut, hat uns gut gefallen, vor allem für den eintägigen Workshop waren wir froh um so viel Platz und Geräumigkeit.
Die Zimmer sind top. Essen sowie Verpflegung hat auch unseren Wünschen entsprochen. Die Freundlichkeit des Personals möchte ich zudem auch hervorheben. Ein rundherum perfekter Aufenthalt! Vielen Dank - wir werden wieder kommen :-).
Sabrina Niederhauser, Schweizerische Bundesbahnen SBB
03.07.2017
- Kettenbrücke, 5000 Aarau
Leistung des Hotels war einwandfrei! Kann weiter empfohlen werden.
Eliane Jeanneret, Schweizerische Bundesbahnen SBB
03.04.2017
- Kettenbrücke, 5000 Aarau
Unterkunft:
- sehr schöne, saubere Zimmer - gut eingerichtete Sitzungszimmer - angenehmes Restaurant Essen, Service: - hervorragender Service und sehr freundliches Personal - gute Menu-Auswahl und sehr gute Qualität des Essens
Bernadette Peter, Schweizerische Bundesbahnen SBB