Hotel




Sorell Tamina
7310 Bad Ragaz

Sorell Hotel Tamina is located in the centre of the charming holiday resort of Bad Ragaz, surrounded by the picturesque mountain landscape of Heidi country (Heidiland). Since its refurbishment in the spring of 2011, the hotel radiates new lustre. Straightforward, unfussy design and natural materials ensure a genuine ambience of well-being. No matter whether your requirement is for a brief break from everyday routine or a relaxing holiday in a natural environment, you won't have to wait long before recuperating. The fresh mountain air is also certain to provide seminar and conference participants with plenty of inspiration for fresh ideas and visions.
50 rooms
6 Seminar rooms
128 m2
12 Walking minutes to public transport
in the mountains
in the center
Kick-off meetings
Retreats
Workshops
Strategy meetings
Management away days
Testimonials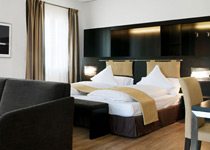 25.10.2017
- Sorell Tamina, 7310 Bad Ragaz
Gutes, angenehmes Hotel. Die Betreuung erlebten wir als aufmerksam, hilfsbereit und zuvorkommend. Die Einrichtung war zweckmässig, Essen und Trinken sehr gut. Gesamthaft waren wir zufrieden und können das Hotel empfehlen.
Edith Rast, SBB Personenverkehr Operating Zugführung