Castle




Hünigen
3510 Konolfingen

Only 20 minutes from Bern in Konolfingen, Schloss Hünigen is located in a romantic park with over 3500 roses. The 400-year-old hotel-castle building, equipped inside with the latest comforts, the excellent infrastructure with all modern conveniences, the first-class service (QQ award) and the active hospitality are the best prerequisites for an unforgettable stay. Our claim is to convince and inspire you with our services and hospitality.
49 rooms
10 Seminar rooms
185 m2
3 Walking minutes to public transport
with wellness
Wedding
Kick-off meetings
Retreats
Workshops
Strategy meetings
Management away days
Staff events
Testimonials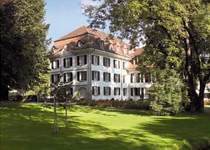 10.04.2018
- Hünigen, 3510 Konolfingen
Sehr angenehmer Aufenthalt.
Persönliche Begrüssung, zuvorkommende Mitarbeiter. Gute Location für energetisierendes arbeiten. Wir nutzten einige Male im schönen Garten zu spazieren und sich so neu zu fokussieren. Rahmen mit Kaffee und Zvieri stimmt absolut.
Stefan Fiechter, SBB Cargo AG
24.04.2014
- Hünigen, 3510 Konolfingen
Wir waren sehr zufrieden! Der Raum war eher etwas knapp von der Grösse her. Ansonsten war alles bestens und hat geklappt. Ein besonderes Kompliment an die Verpflegung. Herzlichen Dank!
Beatrice Dubach, Schweizerische Bundesbahnen SBB
15.01.2014
- Hünigen, 3510 Konolfingen
Die Räume sind sehr schön, das Personal ist äusserst hilfsbereit, die Ausstattung des Schlosses ist einwandfrei und die Zimmer sind sehr angenehm. Wir empfehlen das Schloss gerne weiter.
Fabienen Schaad, Schweizerische Bundesbahnen SBB
24.09.2013
- Hünigen, 3510 Konolfingen
Sehr gute Lokalitäten.
Gute Unterstützung durch das Personal. Freundliches Personal. Kann Unterkunft jederzeit weiter empfehlen.
Thomas Hirschi, Schweizerische Bundesbahnen SBB
16.05.2013
- Hünigen, 3510 Konolfingen
Wir waren mit dieser Lokalität, dem Service und "Rundumprogramm" sehr zufrieden und werden sicher nicht das letzte Mal im Schloss Hünigen getagt haben.
Dieses Seminarhotel war uns allen unbekannt und kann tatsächlich weitherum nur empfohlen werden. Danke an des Veranstaltungsteam.
Rettenmund Thomas, Schweizerische Bundesbahnen SBB