Seminar Hotel




Wolfensberg
9113 Degersheim

Enjoy and linger on the Wolfensberg

Situated at 900 metres, the Wolfensberg provides a fantastic backdrop for the hotel and a great view of the foothills of the Eastern Swiss Alps. It is the idyllic place for secluded walks, easy hikes and excursions. Our hotel with seminar rooms and sauna is ideal for company seminars, club events, banquets and holidays.
27 rooms
10 Seminar rooms
200 m2
18 Walking minutes to public transport
Pure nature
Wedding
Kick-off meetings
Retreats
Workshops
Strategy meetings
Management away days
Staff events
Testimonials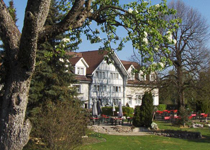 17.03.2014
- Wolfensberg, 9113 Degersheim
Unser Führungsteam durfte einen zweitägigen Workshop im Seminarhotel Wolfensberg Degersheim durchführen. Die Rückmeldungen aller Teilnehmenden sind durchwegs positiv und vor allem das Essen, die Freundlichkeit und die ausserodentliche Gastfreundschaft wurde besonders erwähnt. Die Zimmer sind sehr geräumig und sauber, sind aber schon ein bisschen in die Jahre gekommen. Gerne kommen wir in den nächsten Jahren wieder einmal in Degersheim vorbei.
Michael Boppart, Schweizerische Bundesbahnen SBB