Campus Sursee
6210 Sursee

Welcome to the seminar centre of CAMPUS SURSEE. The 550 modern, functionally furnished hotel rooms in the Premium, Standard and Budget categories offer guests sufficient space for relaxation in the countryside. 67 function rooms for 5 to 1000 people and 1100 parking spaces are available. WLAN is free of charge on the entire premises.

In the grill restaurant BAULÜÜT with bar/lounge and the four self-selection restaurants we spoil you with culinary delights. As a hotel guest in the Premium and Standard categories, you benefit from free admission to the CAMPUS SURSEE sports arena with 50 m Olympic pool, 25 m Semi-Olympic pool, Relax & Kid's pool. The spa area includes sauna and steam bath, relaxation room, infrared floating loungers, ice room and experience showers. In the athletics room you will find strength, coordination and endurance equipment.
The campus is located in the heart of central Switzerland, 5 minutes from the Sursee motorway exit.
550 rooms
67 Seminar rooms
420 m2
2 Walking minutes to public transport
with wellness
Conferences
Staff events
Management away days
Strategy meetings
Workshops
Retreats
Kick-off meetings
Testimonials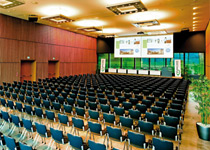 16.08.2019
- Campus Sursee, 6210 Sursee
Sehr nette und hilfsbereite Leute. Leider funktionierte bei uns das W-Lan nicht. War für diesen WS jedoch auch nicht nötig. Die Serviceleute haben alles probiert und auch zusätzliche Wünsche umgehend erfüllt.
Wir kommen sicher wieder.
Claudia Berger, Schweizerische Bundesbahnen SBB
07.05.2018
- Campus Sursee, 6210 Sursee
Die Teilnehmer unseres Anlasses kannten den Campus noch nicht. Es waren allen sehr begeistert, sei es von der Anreise, von der Anlage, vom Essen, vom Service. Was allen besonders gefallen ist die Bauchallenge am Nachmittag. Für uns war es ein gelungener Teamanlass. Danke an alle fürs Mitwirken.
Marianne Lourenço, Schweizerische Bundesbahnen SBB
12.10.2016
- Campus Sursee, 6210 Sursee
beim Campus Sursee handelt es sich um eine super professionelle Seminar Location. TOP!
Nicole Geithner, Schweizerische Bundesbahnen SBB
10.04.2014
- Campus Sursee, 6210 Sursee
Guten Tag Frau Richter
Da ich nicht selber am Workshop teilgenommen habe, musste ich mich kurz bei meinen Teamkollegen erkunden. Was ich sehr erfreulich fand ist,dass praktisch nur positive Rückmeldungen zurückgekommen sind. Hier einige der Aussagen: - Gute Busverbindungen. Anschluss gewährleistet. - Zimmer sind simpel aber dennoch vollständig ausgestattet und zweckmässig - Auch die Workshopräume waren dem Anlass entsprechend mit den richtigen Untensilien ausgestattet. - Die Badgeorganisation wurde auch sehr geschätzt. Einziger Kritikpunkt waren die Mittagessenszeiten. Je nachdem wann man ging, war die Kantine sehr ausgelastet, aber ansonsten hat das Essen den allermeisten gemundet :) Im Grossen und Ganzen also ein gelungener Workshop. Vielen Dank für die allgemeine Organisation. Liebe Grüsse Antonietta Navarra
Antonietta Navarra, Schweizerische Bundesbahnen SBB
25.02.2014
- Campus Sursee, 6210 Sursee
Für einen Workshop ideale Voraussetzungen mit guter Infrastruktur und neusten technischen Hilfsmitteln. Sehr flexible Workshopgestaltung, da Pausen und Essenszeiten variiert werden können. Gutes Essen und zweckmässige saubere Zimmer für die Übernachtung. Das Personal war sehr freundlich und zuvorkommend. Die Einführung und die Begleitung zu Beginn des Aufentahlts ist besonders zu erwähnen.
Manfred Ott, Schweizerische Bundesbahnen SBB
22.05.2013
- Campus Sursee, 6210 Sursee
Es waren anderthalb super Tage! Wir hatten tolle Seminare und wurden gut betreut. Der Campus hat tolle Räumlichkeiten und ist ein guter Ort, um Meetings durchzuführen.
Martina Oswald, SBB Cargo AG