Hotel




Best Western Mirabeau
1003 Lausanne

Situated in the heart of Lausanne, close to the shopping and business district and only 400 meters away from the railway station. Restaurant with traditional and french cuisine. Rooms with air-conditioning on request. Suites CHF 370.-/550.-. Wireless internet-access in the whole hotel. Underground car park (extra charge).
75 rooms
3 Seminar rooms
108 m2
5 Walking minutes to public transport
Wedding
Testimonials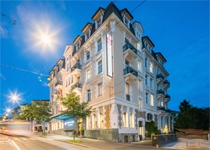 13.12.2018
- Best Western Mirabeau, 1003 Lausanne
Ich möchte mich recht herzlich für die gute Organisation und das feine Essen bedanken. Es war alles zu unserer Zufriedenheit (ausser die Saalbestuhlung, jedoch haben wir das mit Herr Jungen pragmatisch gelöst, also alles okey).
Zudem möchte ich einen grossen Dank an Monsieur Gérard aussprechend. Er war sehr zuvorkommend, freundlich, hilfsbereit und stehts da, wenn wir ihn gebraucht haben. Grosses Kompliment! Tolle Location mit viel Möglichkeiten, sehr zuvorkommendes Personal und leckeres Essen. Alles in allem: Top, vielen herzlichen Dank!
Nadine Spycher, Schweizerische Bundesbahnen SBB