Park Hotel




Gunten
3654 Gunten

© Pictures Park Hotel Gunten

Experience a warm atmosphere on the sunny side directly on Lake Thun. The spacious hotel lives hospitality between tradition and modernity. The dreamlike park with old trees, sunbathing lawn and bathing entrance let your deserved vacations unite with Mediterranean flair. The rooms are decorated in fresh colors, the breakfast buffet is very rich and the food, framed with selected wines, is excellent. A nearby boat station, ideal hiking and excursion region as well as museums and castles let you experience a lot. And last but not least, the hotel has a view of the Eiger, Mönch and Jungfrau.It is new and it is unique, our small fine wellness area with direct access to Lake Thun!
This includes the Finnish sauna with fantastic panoramic views of the lake. Great perspectives and views of water and waves are also offered by the whirlpool on the sun deck.
48 rooms
4 Seminar rooms
40 Walking minutes to public transport
at the lake
Wedding
Testimonials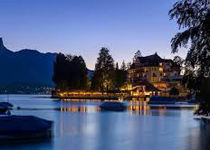 18.02.2019
- Gunten, 3654 Gunten
Danke! Alles hat bestens geklappt!
Die Location war grossartig, wir haben uns ausserordentlich wohl gefühlt! Das war besonders gut: Tolle Zimmer mit ansprechendem Komfort Grosser Seminarraum mit vielen Zimmern Freundliches Personal (Reception, Bar, Service) Das Essen war TOP Das war nicht so gut: Die Gruppenräume waren doch recht weit vom Seminarraum entfernt. Merci, und wir kommen gerne wieder einmal ins Park-Hotel
Pietro Buonfrate, Schweizerische Bundesbahnen SBB
17.11.2014
- Gunten, 3654 Gunten
Sehr schönes Seminarhotel direkt am See. Sehr gute Betreuung, schöne und zweckmässige Seminarräume, Zimmer und Essen ok. Sehr gutes Preis-Leistungs-Verhältnis.
Für grössere Gruppen (>25 Personen) wird es auch im grössten Saal etwas eng.
Janet Muamba, Schweizerische Bundesbahnen SBB