Hotel




Menzberg
6125 Menzberg

Menzberg, the highest village on the Napf, is the ideal place for those seeking peace and relaxation. You can enjoy a fantastic view from the Jura over the Pilatus chain to the snow-crowned Bernese Alps. A wide range of culinary delights awaits you in our country inn - be it in the dining room, in the panorama hall or on the large sun terrace. Cosy guest rooms round off our offer. We offer you plenty of space for training courses, seminars and presentations and thus help you to develop new, creative ideas for yourself, your team and your company from a distance to everyday life. In 5 seminar rooms for 5-30 people with all technical aids, you can find new strategies tailored to your personal needs.
25 rooms
6 Seminar rooms
72 m2
99 Walking minutes to public transport
Wedding
Testimonials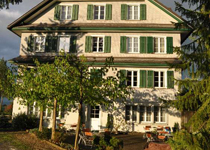 19.03.2020
- Menzberg, 6125 Menzberg
Ich möchte Hr. Peter und seiner ganzen Belegschaft herzlich danken für die extrem aufmerksame und zuvorkommende Gastfreundschaft. Wir haben uns rundum wohlgefühlt und konnten bei einer Top Infrastruktur einen rundum gelungenen Workshop durchführen. Der Apéro und anschliessende Raclette-Abend werden wir in bester Erinnerung behalten. Auch die Flexibilität bezüglich Taxi-Shuttle wussten wir sehr zu schätzen.
Ich kann das Hotel Menzberg zu 100% weiterempfehlen, egal ob für Teamanlässe, Workshops oder auch für private Ausflüge.
Gabriel Zurschmiede, Schweizerische Bundesbahnen SBB
23.06.2017
- Menzberg, 6125 Menzberg
Wir hatten einen sehr angenehmen Aufenthalt. Durch die schöne Lage im Luzerner Hinterland, konnten wir uns vom Tagesgeschäft lösen und uns auf den Workshop konzentrieren.
Das Personal war sehr freundlich und zuvor kommend. Besten Dank.
Stefan Fiechter, SBB Cargo AG
30.06.2014
- Menzberg, 6125 Menzberg
Generell sehr empfehlenswert
Astrid Lanz, Schweizerische Bundesbahnen SBB