Hotel




Prairie
1400 Yverdon-les-Bains

At a walking distance from the thermal baths, the medieval city and the « Pole technologique du Nord Vaudois », la Praire offers you a space of tranquility ideal for business meetings and for a family getaway. Our hotel comprises of 35 cosy bedroom and a fantastic suite, 2 restaurants which will allow you to enjoy seasonal and typical cuisine, as well as various well-equiped seminar rooms.
34 rooms
2 Seminar rooms
170 m2
18 Walking minutes to public transport
Wedding
Testimonials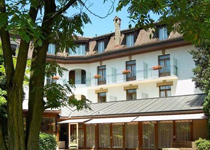 06.05.2014
- Prairie, 1400 Yverdon-les-Bains
Alle TN waren wiederum zufrieden. Besonders geschätzt wird auch, dass für Vegetarier, bzw. Allergiker ohne Schwierigkeiten jeweils ein Alternativmenü zur Verfügung steht.
Eine Notiz, die an mich von einem Kollegen angefertigt wurde, ist mir an der Rezeption zuverlässig ausgehändigt worden. Der Service war pünktlich und speditiv beim Essen. Merci bien :- )
Bernhard Hofmann, Schweizerische Bundesbahnen SBB
18.04.2014
- Prairie, 1400 Yverdon-les-Bains
Sehr zufrieden mit
dem Saal (Grösse, Einrichtung, Material), den Pausen (Getränke etc.), dem Essen (gepflegt, Sonderwünsche wurden beachtet, pünktlich, Quantität angemessen) und dem Service im Allgemeinen (Aufmerksamkeit, Freundlichkeit, Dienstleistungsbereitschaft): Uneingeschränkt weiter zu empfehlen). 17.04.2014 B.M. Buzzi
Bernhard Hofmann, Schweizerische Bundesbahnen SBB