Seminar location

Memox Albisriederstrasse
8047 Zürich

The memox.world at Albisriederstrasse 199 in 8047 Zurich offers space for up to 220 people in total with four rooms ranging from 30-260m². Our location is in close proximity to the Letzigrund stadium and is conveniently situated in Zurich. All our rooms are flooded with light, equipped with a private bistro and will be adapted to your needs so that your participants want for nothing. Discover over 140m² of whiteboard space, up to 17 breakouts and a variety of room layouts to make your event in Zurich a memorable experience!
memox.world Zurich is easy to reach by public transport and by car. There are two multi-storey car parks nearby and the "Hubertus" tram station is only a few minutes' walk away.
3 Seminar rooms
260 m2
28 Walking minutes to public transport
Kick-off meetings
Retreats
Strategy meetings
Management away days
Testimonials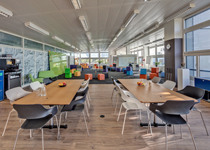 01.12.2021
- Memox Albisriederstrasse, 8047 Zürich
Super Räume, super Einrichtung - alles Wichtige ist vorhanden
Grosszügiger Platz - Breakout-Sessions problemlos möglich Gute Apéro-Qualität Location sollte von aussen besser gekennzeichnet werden; es war nicht ganz einfach, den Eingang zu finden Für den Apéro waren keine richtigen Gläser vorhanden; es wurde angenommen, dass man aus den kleinen Flaschen trinkt. Das ist ok, aber für eine etwas formalere Anlässe sollten Gläser alternativ angeboten werden
Patrik Niederer, Schweizerische Bundesbahnen SBB